Advertising Disclosure: This post includes affiliate links. For more information, please see our Privacy Policy and Disclosure.
Current Lighting and Electrical Trends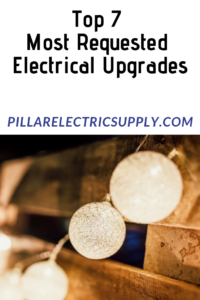 Are you planning a home remodel?  Most likely, the lighting you currently have in your dated house is not sufficient to satisfy the design trends of today!  Architects and designers are increasingly requesting MORE lights, more outlets, and more options to meet the needs of busy homeowners.  An experienced electrician recently shared how some mid-high end designers are requesting 50 plus recessed can lights per house!   Lighting options and electrical accessibility are important to help you achieve the look you want.  With more technology in the home, more electrical options are necessary.  We're going to share with you the top 7 most requested electrical upgrades, so you can decide what's most important to you in your remodel.


When you plan your remodel, you need to consider how you will use the space.  For example, do you have a dedicated space for charging phones, ipads, and other devices?  In your kitchen, do you plan to install backsplash with a pattern that you don't want to disrupt with outlets?  What about reading nooks or art displays?  All could greatly benefit from focused lighting and electrical accessibility with the use of space in mind.  Here, we're going to share with you the top 7 most requested electrical upgrades for you to consider in your space.
Under Cabinet Lighting
Kitchen under cabinet lighting can create task lighting and ambiance lighting for your kitchen.  Particularly if you have a premium counter surface like granite or marble, under cabinet lighting can add value to your home if installed thoughtfully.
Drawer Utility Outlets
Are you tired of seeing cords on the kitchen counter or bathroom vanity?  One consideration is to install outlets inside the drawers in your kitchen and bathroom.  Create a utility drawer and never see those cords again!  This allows your iphone, ipad, and other devices to charge sight unseen in the drawer.  The outlet could also include a USB (mentioned below).  You can also install one for your hair blow dryer, flat iron, or other bathroom appliances.  Store those items in their own drawer with outlet inside.  Now, your house instantly stays more organized and picked up without everything out on the counters.
Dimmer Switches
Along with the idea of task lighting above, dimmer switches are becoming more popular.  Depending on the activity, whether it's a candlelight dinner or night time reading, dimmer switches add increased functionality to your lights.
Outlets with Night Lights
Increasingly common, you can include night lights in outlets for any space.  These are particularly helpful for bedrooms, bathrooms, hallways, or anywhere else you may have to navigate in the dark.  Outlets come on automatically in the dark, and save you the energy during the day by turning themselves off automatically with light.
Outlets with USB
With all of the devices people have today, homeowners can charge them directly into the outlet without an additional connection.  Some outlets include USB's, and you simply need to plan ahead to tell your contractor where to install these.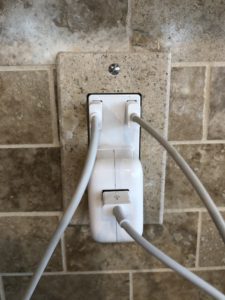 Timer for Bath Fan
An energy waster if left on, install bath fans with a timer to turn off after a designated amount of time.  That way, if you are not home, the bathroom fan will not run all day.  When it does, it pulls air-conditioned air out as the air-conditioner runs, wasting energy.
Recessed Can Lighting
As I mentioned at the beginning, recessed cans are popular electrical upgrades with designers and homeowners.  They offer focused lighting, less expense, and take up less space than traditional hanging lights.  Recessed cans are used throughout the house including the kitchen, living space, bedrooms, and bathrooms.  Can lights have a clean look that appeals to many designers.
These are just a few of the most commonly requested electrical upgrades; however, there are many others to consider.  Before you complete your remodeling project, make sure to do your research and think about how you want to use the space.  Shop for all of these on our online shopping platform.  Keep updated on the latest trends by joining our newsletter.  All of this work will pay off and you will have an amazing space that is functional and beautiful!